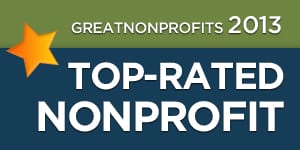 We are happy to announce that Children's Scholarship Fund (CSF) has been honored with a prestigious 2013 Top-Rated Award by GreatNonprofits, the leading provider of user reviews about nonprofit organizations.
The Top-Rated Nonprofit award is based on the large number of positive reviews that CSF received – reviews written by volunteers, donors and clients. For example, one CSF parent wrote, "There is no greater gift that anybody can give to a child than a good education and that is what this organization is doing for my family."
You can read all the reviews of CSF on the GreatNonprofits website.