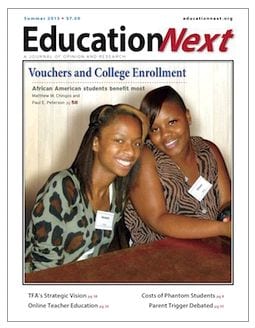 We are proud to report that the cover of the latest issue of Education Next features two Children's Scholarship Fund (CSF) alums, Denasia Watts and Tiffany Williams.
Both young women used CSF scholarships to attend private elementary schools in New York. Denasia will graduate from high school next month and plans to begin college this fall, while Tiffany has earned a bachelor's degree from Temple University.
Inside the journal, photos of several more CSF alumni accompany an analysis of the recent study from Matthew M. Chingos and Paul E. Peterson which found that African-American students who used scholarships to attend private school were more likely to enter college than their peers at public schools.
You can read the cover story online at http://educationnext.org/the-impact-of-school-vouchers-on-college-enrollment/.