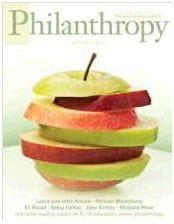 The latest issue of Philanthropy magazine features a cover story on education reformers who balance charitable giving with advocacy and direct political engagement.
In the piece, former CSF Tampa Bay Founder John Kirtley says that when the CSF partner program received more than 12,000 applications for its first 700 scholarships, he became convinced that philanthropy alone could not meet the demand. Kirtley went on to fight for a statewide corporate tax credit program which today serves more than 50,000 children throughout Florida.
You can read the entire article here.