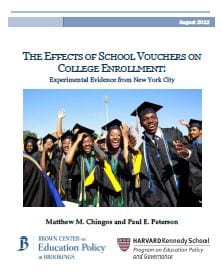 We have some great news to report. A groundbreaking new study from Matthew M. Chingos and Paul E. Peterson finds that private scholarships, just like those CSF offers, significantly increase the chances that African-American students will go on to graduate from high school and enroll in college.
Released today, this is the first study using data from a randomized trial (considered the "gold standard" in research methodology) to look at the effects of partial scholarships on college enrollment. After gathering college enrollment information from the National Student Clearinghouse, which compiles enrollment data from more than 96% of students attending colleges and universities in the U.S., the researchers found that African-American students in New York who won and used a scholarship to attend private school in Kindergarten were 24% more likely to attend college than those who applied but didn't win a scholarship.
The students in this study were awarded partial scholarships in 1997 from the School Choice Scholarships Foundation (SCSF), an organization that pre-dated Children's Scholarship Fund. SCSF scholarship recipients are almost identical to CSF families in New York City in terms of income levels, ethnicity, and neighborhoods. They attended the same private and parochial schools where CSF Scholars in New York use their scholarships today. (In fact, CSF actually took over the administration of SCSF scholarships in 2001.)
This new study confirms and complements earlier research showing improved test scores and higher graduation rates for CSF Scholars compared with their peers who attend public schools.
You can download the Chingos and Peterson study here. On our website, you can find more studies on CSF Scholars from CSF and our partner programs across the country.